By: Daisy Magaña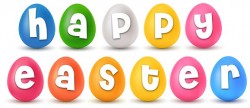 Chicago snow is still greeting its residents and visitors; however, spring is here and so is Easter! Paint your eggs and stock up on jelly beans to get into the fresh, new season of blooming flowers.
What better way to welcome the new season than with catching a whiff of what it has to offer at this year's Macy's Flower Show now thru April 7 during store hours. This year's show is inspired by the lively spirit of south Asia. Located at Macy's on State Street 9th floor.
On Thursday, March 28, from 5:30-8:30 p.m. Taylor Park, located at the intersection of 47th Street and South State Street, hosts an Easter egg hunt that is not your ordinary run-of-the-mill egg seeking adventure! Children of all ages are welcomed to enjoy a special flashlight egg hunt with parents and supervisors. This tradition with a spin to it is a fun opportunity for family and friends spend time together and create holiday memories while children become young Sherlock Holmes and do a little spy work to find their eggs. The event is free and open to the public, but please remember to attend in your holiday attire.
Join family and friends at Soldier Field's egg hunt to welcome the start of a new season: the beginning of spring! Soldier Field will open at 9:00 a.m. and will include a fun-filled candy grab for all the children who enter. Find balloon artists, inflatables, face painters, and more! This event is free and open to the public, but children and adults can pay to have a special breakfast with the Easter Bunny. At $12 for children and $17.50 for adults, this enjoyable breakfast in the United Club is well worth every dollar!
Kick start your weekend with Adrenaline Sports Management's third annual Bunny Rock 5k and Egg Hunt this Saturday, March 30th at 9:00 a.m. This year the race brings entertainment inspired by Chicago's own 80's rock music throughout the course. Every 5k runner will receive bunny ears, sunglasses, and a custom Bunny Rock dri-fit t-shirt!
Here's a restaurant locale that will help you bump those winter blues, Carnivale! Its interior is lively decorated and will get you into colorful spirits just in time for spring fashion. On Sunday, March 31st, they will be offering an Easter Brunch. Savor on some French toast with plantains and bacon or their breakfast cazuela. Prices vary; please call 312-850-5005 for more information!