Por: Ashmar Mandou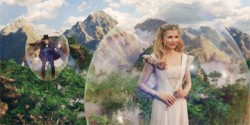 La audiencia espera ansiosa la producción de Disney Oz The Great and The Powerful, pero nadie está más entusiasmado que Francisco DeJesús, supervisor de efectos digitales de la película. "Oz The Great and the Powerful agrega una perspectiva fresca y nueva a la mayoría de gustadas historias de, "El Mago de Oz" dijo DeJesús. "Investigamos las historias originales de L. Frank Baum y encontramos un interesante mundo de personajes que pensamos serían interesantesen esta secuela".
La historia de Oz The Great and The Powerful comienza cuando un mago de circo, interpretado por James Franco, es extrañamente transportado a Oz. Ahí encuentra un trio de brujas, interpretadas por Mila Kunis, Michelle Williams y Rachel Weisz, quienes no están convencidas de que el sea el gran mago que todos piensan que es. El es entonces escogido para proteger a los residentes de Oz de la bruja malvada, finalmente convirtiéndose en el gran Mago de Oz. "Se que las audiencias van a disfrutar viéndola, como nosotros disfrutamos trabajando en ella", dijo DeJesús. "Aunque tuvimos algunos problemas tratando de crear nuevos personajes, lo que se espera que pase cuando se trabaja con efectos digitales, siempre es bueno tener actores talentosos que traigan a la vida esta película".
El trabajo de DeJesús puede encontrarse en otras películas como la primera película de El Hombre Araña, Alicia en el País de las Maravillas, G-Force, Monster House y Men inBlack 2, por nombrar algunas. Oz The Great and the Powerful estará en nuestros teatros el viernes, 8 de marzo.