By: Ashmar Mandou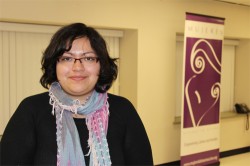 Marking an historic moment, Mujeres Latinas en Acción, with help from mothers, community activists, and legislators, held a celebratory press conference for the recent passage of the Violence Against Women's Act (VAWA), signed into law by President Obama last week.
"We are here because we have a celebration," said President and CEO of Mujeres Latinas en Acción Maria S. Pesqueira. "We are not only celebrating International Women's Day, but also the reauthorization of the Violence Against Women Act. It is great to be a woman, today."
Originally introduced in 1994 to help diminish the cases of domestic violence, the reauthorization of VAWA will include protections for LGBTQ and Native-American victims; however, Pesqueira, along with Congresswoman Jan Schakowsky and Chicago City Clerk Susana Mendoza are urging the White House to take VAWA a step further and include protection for undocumented women facing domestic violence.
"In order for VAWA to work for all women, we need comprehensive immigration reform," said Congresswoman Schakowsky. "We need to push for comprehensive immigration reform, we need to push for the stopping of deportations, we need to issue a moratorium on these private, for-profit immigration prisons, like the one that is scheduled to be built in Joliet. So we are writing a letter to the President and thanking him for his leadership, but saying we have to go much, much further and we need to do quickly, on behalf of the people who are suffering so badly."
According to Mujeres Latinas en Acción, a reported 1,100 people are deported daily, leaving 250 children "orphans with parents," and destroying families throughout the Latino and African-American communities. To combat the 'destruction' of families, Congressman Schakowsky has introduced the Violence Against Immigrant Women Act, which will provide 5,000 more U-Visas that will be able to serve as a protection to more undocumented women from abuse. The purpose of the U-Visa is to give victims of certain crimes a temporary legal status and work eligibility in the United States for up to four years.
Blanca Ruiz, a recipient of the U-Visa, can attest to the importance providing a pathway to citizenship and the significance of the passage of VAWA from her own experience as a survivor of domestic violence. "I came here to this country seven years ago, with my two sons, and I was a victim of a crime," said Ruiz. "That's why I could obtain the U-Visa, but I know there are a lot of families, a lot of women, being separated through deportations. We need more humane laws that will keep our families together and allow for undocumented women, who are facing domestic violence, to receive protection from their abusers."
Over the next several months, community activists like Ruiz, and Congresswoman Schakowsky will be heading to Washington, D.C., to push for immigration reform to help strengthen families and communities.