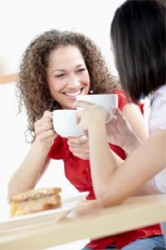 Tome una taza de café, siéntese e instálese mientras se informa como convertirse en un estudiante adulto en Moraine Valley Community College por medio de "Career Paths and Coffee". Ya sea que hayan pasado años desde que entró a un salón de clase y está listo para regresar a la academia o si busca mejorar sus destrezas en el trabajo o cambiar de carrera, no hay major momento para unirse a otros adultos y descubrir lo que es posible para su futuro que este evento gratuito. Esta sesión de una hora de duración es el primer paso para que los adultos aprendan sobre los programas y recursos existentes en Moraine Valley, en un ambiente tranquilo.
Moraine Valley ofrece las sesiones informativas para adultos "Career Paths and Coffee", los siguientes miércoles a las 10 a.m. y 6 p.m.: marzo 20, abril 10, mayo 8, junio 5 y Julio 10 en el Centro de Servicios Estudiantiles (Edificio S), Salón S117A, en el campo, 9000 W. College Pkwy., Palos Hills. Sesiones fuera del campo tendrán lugar el 26 de marzo, el 14 de mayo y el 17 de Julio a las 6:30 p.m., en el Centro de Educación del colegio, en Blue Island, 12940 S. Western Ave.; el 21 de marzo, el 1º de mayo y el 24 de Julio a las 6 p.m., en el Centro de Educación del Sudoeste del colegio, 17900 S. Kenton Ave. Una serie de conferencias están programadas para el 7 de marzo, 6-8:30 p.m., con Bill Moller, presentador de radio WGN quien hablará sobre "Como Crear Impresiones Positivas: Construya su Red y Sea Contratado!"
En las sesiones, el personal de Moraine Valley discutirá detalles sobre el colegio y como atender los retos como estudiante. Se explicarán los programas de carreras y diplomas, así como los programas y recursos para adultos de bajos ingresos, trabajadores desocupados y adultos que regresan al trabajo. Los adultos tendrán también la oportunidad de recibir ayuda para inscribirse en las clases. El personal discutirá las principales carreras, donde están los trabajos y que programas pueden ayudar a los estudiantes a conseguirlas.
Para más información, llamar a la Oficina de Admisiones de Moraine Valley al (708)974-5759, email Willsd6@morainevalley.edu o visitar morainevalley.edu/adultsuccess.