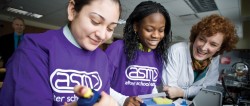 After School Matters está aceptando solicitudes para sus programas de internado y aprendizaje de verano, la mayoría de los cuales comenzarán el 1º y 8 de julio. Los programas en arte, comunicaciones, ciencias, deportes y tecnología serán ofrecidos en 30 secundarias de las Escuelas Públicas de Chicago y en más de 120 organizaciones comunitarias y Distritos de Parques de Chicago de la ciudad, así como en el centro, enGallery 37 Center for the Arts y "bajo las tiendas" en el Millenium Park. Algunos aprendices ganarán un estipendio de hasta $420 y los internos ganarán $8.25 por hora. Algunos de los programas ofrecidos en la ciudad este verano incluyen:
Escritura Creativa Columbia College – Wods37
Lugar: Gallery37 Center for the Arts en el Centro
El programa Escritura Creativa del Columbia College enseña el arte del relato de cuentos y conecta el poder de la historia a las artes, la ciencia y el mundo del trabajo. Por medio de talleres semanales, con conocidos escritores, los adolescentes seleccionados para este programa de aprendizaje avanzado desarrollarán contenido de ficción y no ficción en forma de historia, incluyendo sueños, cuentos folclóricos, ensayos, bosquejos de comedia y más.
Club de Arte Culinario Mi Cocina – Gallery37
Lugar: Casa Central en West Town
El Club de Arte Culinario Mi Cocina de Casa Central introduce a los adolescentes a la profesión del arte culinario y los ayuda a desarrollar competencias básicas en la creación de menús, la sanidad apropiada y como mantener una cocina segura.
Se aconseja a los adolescentes a hacer su solicitud lo más pronto posible ya que el cupo se llena rápidamente. Para preguntas sobre los programas y solicitudes, comunicarse con el 312-742-4182 o a info@afterschoolmatters.org.