By: Ashmar Mandou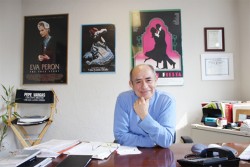 The time has come, yet again, for all of Chicago to take part in one of the most culturally impactful festivals of the year. For 29 years, the Chicago Latino Film Festival has altered the Latino narrative and changed perception by showcasing the works of talented filmmakers, locally and across the globe, a feat Pepe Vargas, founder and executive director of the International Latino Cultural Center, said was a necessity.
"There was and is a need to demonstrate the power and importance of the Latino community," said Vargas. "We cannot live forever without meeting our needs, our spiritual needs, our need to be here and to claim to be a part of this society. And the need to express who we are as a multi-national community."
With that mindset, Vargas takes on the challenge each year, alongside his fellow visionaries, to produce a film festival that shatters stereotypes, elevates spirit, and brings to light the constant evolution and realities of Latino communities around the world. "With limited resources, it's safe to say we don't do this for the glamour," laughed Vargas. "We put on this festival year after year for the simple need of making a connection and demonstrating that we are a Pan-Latino family and there is great diversity to embrace."
This year, CLFF will feature over 100 feature-length and short films from Latin America, Spain, Portugal, and the United States, with the kick-off occurring tonight at the AMC River East 21 with a reception to follow at the River East Arts Center. "I am so excited for all of Chicago to see the lineup of truly remarkable films at this year's fest," said Vargas. "I welcome all, not just Latinos, to immerse themselves in our culture by watching as many films as possible. This festival is about us, but is for everyone to enjoy."
Some of the festival's highlights will include, the works by renowned Latin American and Spanish directors Pablo Trapero ("White Elephant"), Luis Mandoki (""The Precocious and Brief Life of Sabina Rivas"), Raul Marchand Sanchez ("The Gold Brooch"), Alberto Chicho Durant ("Knives in the Sky") Jose Luis Cuerda ("All Is Silence"), and Imanol Uribe, ("Orange Honey"), as well as an impressive and exciting selection of critically acclaimed films by first- and second-time filmmakers that include William Vega's "The Towrope", Francisco Gonzalez's "Three Marys," and Joanna Lombardi's "Casadentro."
"People ask me all the time to recommend films, but I tell them, 'I recommend you see as many as possible,'" laughed Vargas. "There are so many great films by so many great filmmakers…filmmakers who are photographing and filming their realities, so I always encourage people to see as many films as possible throughout these two weeks."
If you find yourself unable to attend most screenings, Vargas suggests you head over to some of the gala events, where you will have the opportunity to mingle with some of the filmmakers and actresses at this year's film festival.
Gala Nights
Opening Night: The 29th Annual Chicago Latino Film Festival (CLFF) opens Thursday, April 11th with the Chicago premiere of Rafa Lara's breathtaking historical epic "Cinco de Mayo: La Batalla."
Night of Argentina: "Marriage," Carlos M. Jaureguialzo's new film starring Cecilia Roth ("All About My Mother", HBO TV series "Epitafios") and Dario Grandinetti, will be shown at the Festival's Night of Argentina gala event, Friday, April 19th.
Closing Night: The sci-fi romantic comedy "The Man From the Future," written and directed by Cláudio Torres, will be presented during the Closing Night gala, Wednesday, April 24th.
"Each year, I have more energy and I am more optimistic. Knowing that this festival has become a gem in the city of Chicago has given me the energy to get out of bed and continue to use this great platform as a way to share our story," said Vargas.
To learn more about CLFF, visit www.chicagolatinofilmfestival.org. Or visit, www.lawndalenews.com to catch movie trailers and interviews with some of the filmmakers at this year's CLFF.