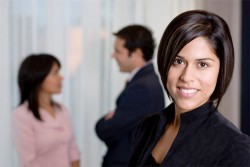 With nearly 50 million Hispanic consumers in the U.S., Fortune 100 companies are continually doing more to reflect the diverse communities they serve. Among those leading the way is AT&T, as recently recognized by the Hispanic Association on Corporate Responsibility (HACR) in its 2012 Corporate Inclusion Index (CII) survey.
AT&T topped the list of 55 participating Fortune 100 companies and HACR corporate members with a 95 rating – the highest received in 2011 and 2012. This is the second year in a row that AT&T obtains a stellar rating in the areas of workforce, procurement, philanthropy and governance. In last year's HACR CII report, AT&T was one of two companies to obtain a 95 rating score – receiving the highest rating for all telecommunication firms.
Key findings from the 2012 HACR CII include:
The average Hispanic hiring rate remained steady from 2011 to 2012 at 11 percent
The average attrition rate for Hispanics was 13 percent
Fifteen percent of survey participants reported less than one percent procurement spend with Hispanic suppliers
The HACR CII is open to all Fortune 100 companies and HACR corporate members. The 2012 HACR CII saw a record number of participants, and certain industrial classifications were better represented than others. AT&T has been a participant in the HACR CII since its release four years ago.