By: Carlos Acevedo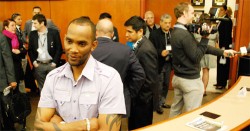 The Chicago White Sox announced that they will be launching a new marketing campaign that will be focused on reaching out to the Latino community. New billboards will be placed in the communities of Little Village, Pilsen, Back of the Yards and on the Southwest Side of Chicago. Additional advertisements will also be seen on public transportation. At the media conference, Alexei Ramirez, Hector Gimenez, Jerry Reinsdorf and the legendary Orestes "Minnie" Minoso were present.
According to Lou Hernandez, Chicago White Sox director of public relations, the purpose for this strategy is to better connect with the Latino community and reach out to the fans, whether it's in the community, at the ballpark, online, or as they commute on public transportation. Through Chicago White Sox Charities, local programs and social service agencies in the community are offered support.
"We want our fans to know that it is important to us to give back to the community. We like to find ways to better connect with the community and Latino families and children. Whether its school programs that we support in the neighborhoods or partnering with the local social service agencies like Gads Hill, El Valor and El Hogar del Niño. We also want to invite and welcome the community to the ballpark," said Christine O'Reilly, Chicago White Sox senior director of community relations.
"We know that the Latino community and the Latino base of fans that we develop today will only enhance our opportunities to be more successful as a business tomorrow. As we give back, we also want to grow our brand in the community," said Brooks Boyer, Chicago White Sox vice president of Marketing and Sales.
The following are some of the key Latino events that fans can look forward to this season: Noche del Trabajador, Cinco Past Cinco, Orgullo Sox festival and the annual Hispanic Heritage Night.
Chicago White Sox Shortstop, Alexei Ramirez took a moment to talk about his plans for this season. "I'd like to thank the White Sox for giving me the opportunity to play on this team. As of now, I feel good. My immediate goal is to play my best each game and like most players, the ultimate goal would be to win the World Series," said Ramirez. As long as he's playing out on the field, Ramirez said the fans can expect to see him give one hundred percent. "I'm happy and I hope to finish my career playing with the White Sox. I know that's not a decision that I make but I would like that. Only God knows my destiny," ended Ramirez.