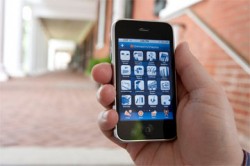 La Comisión de Asistencia al Estudiante de Illinois (ISAC) lanzó el primer smartphone app gratuito, específicamente diseñado para ayudar a los estudiantes de Illinois a planear, preparar y pagar la universidad. El B4College app envía notas personalizadas directamente a los estudiantes, que descargan e instalan el app en su aparato móvil.
Desarrollado internamente por los equipos de College Access and Outreach de ISAC, IT and Research, Planning and Policy Analysis, B4 College envía automáticamente alertas relevantes, actualizadas y personalizadas a estudiantes queplanean ir a la universidad. Actualmente la aplicación envía dos tipos de alertas – seleccionadas por el usuario: Recordatorios de conclusión de FAFSA y alertas sobre ISACorps y otros eventos.
Actualmente disponible para smartphones Android en Google Play, una versión del iPhone será lanzada a principios del verano. Es necesario tener una cuenta de Facebook para usar el app. Información adicional, incluyendo un video introductorio y un enlace a Google Play está disponible en la red de ISAC, www.isac.org.