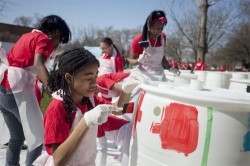 Mayor Rahm Emanuel, Coca-Cola, and Keep America Beautiful on Monday announced a $2.59 million grant to support the citywide expansion of the Blue Cart Recycling Program through the purchase of 50,000 blue carts over the next five years.
The Coca-Cola Company and its philanthropic arm, The Coca-Cola Foundation, are granting $2.59 million over the next five years to Keep America Beautiful to increase citywide recycling and inspire Chicagoans to recycle more.
Through a one-time grant from The Coca-Cola Foundation to Keep America Beautiful, 25,000 new recycling carts will be delivered to Chicago neighborhoods this year to turn sustainability from an idea into a reality. In addition, The Coca-Cola Company will donate an additional 25,000 recycling carts over the next five years.
The blue cart recycling program provides bi-weekly recycling collection services to residents who live in single family homes, two-, three- and four-flat buildings. The expansion will include 340,000 households and is scheduled to be complete by the fall of 2013. The City began expanding blue cart service in March. Currently, 327,000 households receive blue cart recycling service.