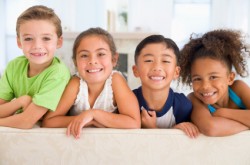 Saint Anthony Hospital is launching its first Cutest Kid Contest. This local contest will focus on children from the hospital's service areas and will give the winners in each category a chance to win a grand prize of $1,000.
Between now and May 31, 2013, parents of children ages 0 to 17 are encouraged to enter their child by "liking" Saint Anthony Hospital Chicago on Facebook and entering a photo of their child online. The finalists will be chosen from those with the most "likes." The contest is sponsored by the Pediatric Department.
The public is encouraged to vote through May 31 for their choice of Saint Anthony Hospital's cutest kid. The top votes in each category will be declared finalists. Judges will announce the winners on June 8 from 11a.m., to 4p.m., at the Saint Anthony Hospital Annual Summer Fest. Families must be present to win. For more information about the Cutest Kid Contest or Saint Anthony Hospital programs, services and community events, visit Saint Anthony Hospital at www.SAHChicago.org.