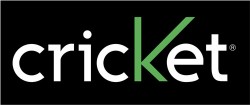 Cricket is providing added value for families this spring with an affordable family plan to go along with the coolest phones Cricket already offers. The new plan is available now to customers who purchase two or more smartphone rate plans with Cricket's Automatic Bill Pay feature.
"The Cricket family plan is half the price of AT&T and value like that makes this plan a great way for families to save money by spending a lot less on their wireless bill," said Tyler Wallis, senior vice president, product and marketing for Cricket. "Each line includes unlimited minutes, texts, data and unlimited downloads from Muve Music. Cricket is the only carrier in the US to offer Muve Music, one of the leading on-demand digital music services in the country."
The family plan is available to new and existing Cricket customers and is available to Cricket Lifeline customers. Customers may choose which Cricket smartphone plans best fit their needs and still get a family plan discount. Each family plan line includes all the stand-alone features of the $50 smartphone rate plan.
For more information about Cricket, visit www.mycricket.com.