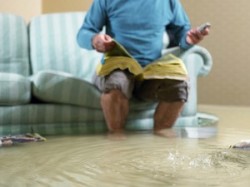 Illinois residents who are not United States citizens may be eligible for federal disaster assistance for damage from the severe storms and flooding between April 16 and May 5. Only one member of a household needs to be eligible to qualify the entire household for assistance, so parents and guardians may apply for aid from the Federal Emergency Management Agency on behalf of a minor child who was born here. The child's information, including his or her social security number, will be needed to register for assistance.
Any citizen living in the affected household can apply for FEMA aid. FEMA does not collect information on the immigration status of other household members who are not registering for disaster assistance. Non-citizen nationals, including those born in American Samoa or Swains Island, or those whose parents are U.S. non-citizen nationals (subject to certain residency requirements) also may qualify to register. Applying for FEMA disaster assistance will not affect one's eligibility to become a U.S. citizen. Undocumented immigrants from a household with no one eligible to apply for federal financial assistance may still be eligible for programs run by state, local or voluntary agencies.
Those in the United States with temporary tourist visas, student visas, work visas and temporary resident cards are not eligible for disaster assistance. To register for disaster assistance, go to www.disasterassistance.gov, via web-enabled phone at m.fema.gov or call 1-800-621-3362 or (TTY) 1-800-462-7585. Those who use 711 Relay or Video Relay Services may call 1-800-621-3362. The toll-free numbers operate from 7 a.m. to 10 p.m. seven days a week. Under the presidential declaration, disaster assistance is available for residents in the following counties: Bureau, Cook, Crawford, DeKalb, DuPage, Fulton, Grundy, Henderson, Kane, Kendall, Knox, Lake, LaSalle, Livingston, Marshall, Mason, McDonough, McHenry, Peoria, Rock Island, Schuyler, Stark, Tazewell, Will and Woodford counties.