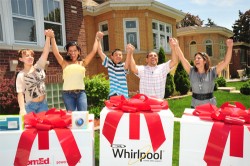 ComEd announced the four winners of its Smart Home Showcase, a contest awarding four customers with free, energy efficiency home makeovers valued at $45,000 each. The winners are Alison Tisza, from Chicago's Logan Square neighborhood; Lisa Polderman and Leticia Gonzales, Berwyn residents; and Brandon Smith, Maywood.
"We launched the Smart Home Showcase to demonstrate the value the smart grid customers," said Mike McMahan, vice president of smart grid and technology, ComEd. "Smart appliances use technology that communicates with smart meters by telling the appliance when electricity usage is cheaper. This feature gives customers greater options on their energy usage and saves them money on their electric bill."
Launched in December 2012, ComEd's Smart Home Showcase was open to customers owning single-family homes in the communities that are part of the company's smart meter pilot program. The four winners will each receive:
Whirlpool® brand smart appliances including a refrigerator, range, dishwasher, clothes washer and clothes dryer. These appliances are equipped with new convenience and control features, as well as energy-management technology that, for example, can make your fridge stop making ice during peak summer times when electricity prices are high.
Electricity-generating solar panels and battery storage equipment installed by Intelligent Generation. These panels can help reduce energy use by generating and storing electricity for the home.
A Nest® Learning Thermostat™ that learns from temperature-setting behaviors, preferences and surroundings to automatically create a custom heating and cooling schedule.
An in-home display to help monitor household electricity use.
The Smart Home Showcase winners will share their experiences with their new smart appliances and energy-management technology through social media. To follow the winners' experiences online or to learn more about the Smart Home Showcase, please visit ComEd.com/SmartHome.