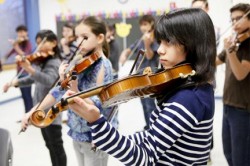 La Escuela de Música Merit de Chicago se enorgullece en anunciar haber sido seleccionada como Finalista del Premio del Programa Juvenil Nacional de Artes y Humanidades (NAHYP) por el Comité del Presidente sobre Artes y Humanidades y sus agencias asociadas, Institute of Museum and Library Services, National Endowment for the Arts y National Endowment for the Humanities. Si merit es seleccionada para recibir un premio, la escuela recibirá una aclamación nacional, un subsidio de $10,000 y una invitación para asistir a la ceremonia de premios en la Casa Blanca en agosto, ofrecida por la Primera Dama, Michelle Obama.
Merit fue nombrada Finalista por sus logros en el aprendizaje de artes y humanidades de los jóvenes, después de la escuela y fuera de la escuela. El Comité sobre Artes y Humanidades del Presidente revisó un total de 376 nominaciones de 49 estados. De acuerdo al Comité del Presidente, la selección de Merit es una de 50 finalistas distinguidas como "uno de los mejores programas en artes y humanidades del país".
La Escuela de Música Merit es una escuela de música comunitaria, no lucrativa que ofrece educación de alta calidad a más de 6,000 estudiantes de Chicago, desde recién nacidos a 18 años. Fundada en 1979, Merit transforma la vida de los jóvenes de Chicago ofreciendo educación musical de alta calidad – con enfoque en comunidades marginadas – inspirando a los jóvenes a lograr todo su potencial, personal y musical. El cuerpo estudiantil de Merit refleja la diversidad de Chicago, con el 44 por ciento de sus participantes de origen hisipano. El ochenta por ciento recibe becas y ayuda financiera. Para más información sobre los programas educativos de música de Merit, visite meritmusic.org o llame al 312-786-9428.