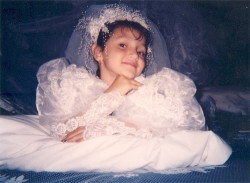 Even over the phone, you can sense the maternal love that Lidia radiates with every word. Her youngest daughter hovers nearby. She is slightly anxious because she knows that her mom is talking about her little sister, who she never got to know. It is impossible for Lidia not to get excited when she remembers her little Viridiana who died tragically when a drunk driver crashed into their family car on Valentine's Day.
"She was a special little girl. She was only 11 years old and always wanted to help others. She wanted to be a singer, to have money and be able to feed and help homeless children," says Lidia, tenderly reflecting on memories of her daughter. Lidia recalls a conversation they had just weeks before the accident. "We were in Mexico and she (Viridiana) saw that on my driver's license it said I was an organ donor. I was never afraid to say yes, because -when I die- I would want my body to help other people. And Viri tells me, 'Mommy, when I die, I want to be a donor too'". Fate was giving Lidia a sign, perhaps the most significant sign of her life.
Less than a month after the accident, doctors informed Lidia and her family that little Viridiana was brain-dead. "My husband was in a wheelchair and we were all injured. She was the apple of his eye. At the beginning we didn't want to… You think so many things…There are many myths surrounding donation that have nothing to do with reality." But their oldest son Eduardo made them realize that the best way to honor Viridiana's memory was to fulfill her wish and donate her organs. "We will not get her back. And that was what she wanted, to live on in other people." Because of the generosity of Viridiana and her family more than seven people have either been rescued from death or have seen a drastic improvement in their quality of life. Three were children.
Raiza Mendoza, Hispanic Public Relations and Community Outreach Coordinator, says: "People believe that organ donation only pertains to adults but the reality is that in the United States alone more than 1,500 children are waiting for a transplant." If you wish to register as a donor or you want to know more about organ donation, go to www.giftofhope.com or call 630-758-2744.