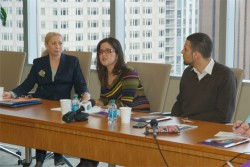 Un reporte publicado la semana pasada por Illinois Coalition for Immigrant and Refugee Rights (ICIRR_ y Blue Cross & Blue Shield of Illinois, destaca las implicaciones del acta Affordable Care Act (ACA) entre las comunidades inmigrantes. El reporte se titula "Implementación del Acta de Asistencia Asequible en Illinois: Cómo Superar las Barreras de Acceso al Cuidado de Salud del Inmigrante".
Illinois es hogar de 1,754,808 inmigrantes, 785,705 de los cuales son ciudadanos naturalizados de E.U., (45 por ciento) y 963,103 adicionales son, o Residentes Permanentes Legales, o indocumentados. Muchas veces los no ciudadanos no tienen seguro de salud como residentes nacidos en E.U. Un estimado de 539,931 inmigrantes (30 por ciento de la población total sin seguro en Illinois) no tienen seguro y aproximadamente 259,073 (48 por ciento) son elegibles para cobertura bajo el acta Affordable Care Act.
El reporte descubrió que las familias inmigrantes enfrentan numerosas barreras para tener acceso a los servicios existentes, incluyendo el idioma, la alfabetización y las barreras culturales; La complejidad de la solicitud y el requisito de eligibilidad; barreras de logística y educación pública, por nombrar algunas. El reporte destaca el modelo desarrollado por el Programa Recursos Familiares al Inmigrante, una afiliación entre ICIRR y el Departamento del Servicios Humanos de Illinois. Los autores del reporte son la Directora del Programa de Recursos Familiares al Inmigrante, Luvia Quiñones, el director del Instituto de Integración del Inmigrante, Abdelnasser Rashid y Donna Gerber, vicepresidenta de asuntos públicos e inversión comunitaria de Blue Cross & Blue Shield de Illinois. Para más información, visite www.icirr.org.