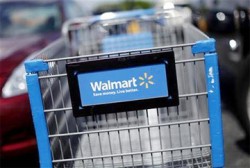 Town President Larry Dominick and officials of Arkansas-based Wal-Mart formally closed an agreement Tuesday to build a Wal-Mart Super Center on the eastern half of the former Sportsman's racetrack. Under the contract, Wal-Mart will pay $7.5 million for 24.67 acres of land at the former racetrack to construct a 190,000 sq. ft. Super Center.
President Dominick said the sale was achieved without any tax or TIF incentives from Cicero taxpayers but will bring huge benefits to the community. "We're very proud of the agreement and very excited to have Wal-Mart bring their successful retail brand to our community," Dominick said.
Cicero sold 35 acres of the vacant Sportsman's Park in January 2011 to Wirtz Beverage Illinois, which has since built a $75 million, 600,000 sq. ft. state-of-the-art distribution center that employs more than 1,000 people.
As a part of that deal, Wirtz agreed to pay for the construction of a regulation-sized outdoor hockey stadium in Cicero Community Park. Since it's opening in 2012, the ice rink has attracted thousands of young kids to the ice rink during winter months and roller-skating during summer months. The new Wal-Mart is expected to generate more than $1 million a year in sales taxes for the Town of Cicero, Dominick said and it puts the property back on the tax rolls.
Wal-Mart's Cicero store is expected to do very well. The Cicero Sam's Club was hailed last month as the number one retail establishment in the Sam's Club chain, which is a subsidiary of Wal-Mart. "The sportsman's property remained vacant and an eye-sore for years. When Larry Dominick was elected president in 2005, he made it one of his top priorities to turn that land into productive, revenue-generating property," said Town Spokesman Ray Hanania. Cicero will continue to own ten acres of the remaining Sportsman's property, which is reserved for future retail expansion and development.