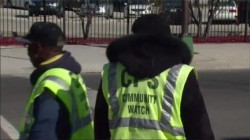 Chicago Public Schools (CPS) announced that CEO Barbara Byrd-Bennett is recommending to the Board of Education this Wednesday the expansion of its Safe Passage program to include 19 new community-based vendors. These vendors will hire an additional 600 Safe Passage workers for the 2013-2014 school year as part of the program's expansion to 51 Welcoming Schools this fall in order to provide a smooth and safe transition for the 30,000 students at all Sending and Welcoming Schools.
"Student safety is among our top priorities," said CPS CEO Barbara Byrd-Bennett in a statement. "Expanding the successful Safe Passage program to include next year's welcoming schools is one of several steps we're taking to create safe environments in and around our schools. Safe Passage workers are the eyes and ears of their communities and will be our partners in providing safe routes to and from school every day for students."
CPS launched the Safe Passage Program in 2009 to help improve safety for students traveling to and from school. The program engages community organizations as vendors that hire community-based watchers who provide an adult presence along pre-defined safe routes. These organizations have demonstrated that they have a strong working knowledge of the communities they serve.
There are currently 10 Safe Passage vendors serving 35 high schools and four elementary schools. More than 600 Safe Passage workers currently serve schools enrolled in the program. CPS will nearly double the program as it expands the program to 51 welcoming schools this fall at an investment of $7.7 million.