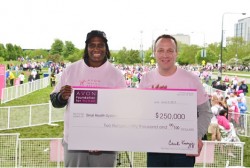 Sinai Urban Health Institute's Helping Her Live program was recently granted $250,000 by the Avon Foundation as part of the Avon Safety Net Hospital Program. The grant, which was awarded at the Avon Walk Chicago, will be used to provide breast cancer education to more than 25,000 men and women as well as screenings, diagnostic testing and treatment services at Sinai Urban Health Institute and other Avon Safety Net Hospitals in Chicago.
Helping Her Live works to provide equal access to breast cancer healthcare for Latina, African-American and other low-income women in Chicago's North Lawndale and Humboldt Park neighborhoods. Women in these underserved communities have a high rate of breast cancer-related deaths due to disparities in screening, diagnosis and treatment options. Compared to white women, Latina women are 36 percent more likely and African-American women are 85 percent more likely to have advanced stages of breast cancer. In Chicago, African-American women are 62 percent more likely to die from breast cancer than white women.
Helping Her Live helps improve breast health outcomes with the preventive care they need to fight breast cancer.