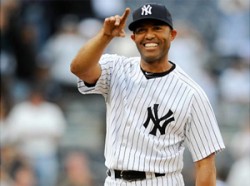 Mariano has been referred to as the Hammer, the Sandman, the Panama Express, or just Mo, but when fans refer to the Yankees' Mariano Rivera, they know him as one of the best in the game. As his farewell tour continues, AT&T is giving fans the opportunity to address Mariano by their favorite nickname and thank him virtually for each special moment he's brought to the diamond.
Launching last Wednesday, AT&T's My Favorite Mo-ment campaign allows fans to create video, photo and text "thank you" messages and upload them to a dedicated, mobile enabled microsite at http://attmo-ments.com. There, fans will get a video tutorial from Joe Girardi on how to upload a video, photo or message, preview other messages from fans, and share their own support for Mariano.
As part of its ongoing sponsorship with the Yankees, AT&T will also house a booth at Yankees Stadium (on the 300 level) at home games throughout the season where fans can warm up and record their messages for Mariano. This content will also be integrated into the website.