Makes 6 medium or 8 small fritters
By Lauren Vaughan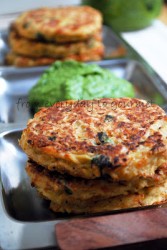 Ingredients:
2 cups fresh baby spinach
1 medium cauliflower
1 cup chicken or vegetable stock (you can use water as well)
1 garlic clove, crushed
1 lemon, divided use
1 cup self-rising flour*
½ cup grated parmesan cheese
1 garlic clove, grated
3 tablespoons chopped Italian parsley
1 egg plus 1 egg white, lightly beaten
2 tablespoons olive oil
Kosher salt
Freshly ground black pepper
Directions:
Preheat oven to 350°.
Place spinach in a medium bowl and set aside.
Zest and juice one large lemon and add to the spinach. Cut the lemon into slices, set aside briefly.
Heat the stock, along with a few lemon slices, the crushed garlic clove and salt and pepper, in a pot able to hold a steamer basket or steamer pan.
Break up all the cauliflower into small pieces and steam over the boiling stock until fork tender, which should take about 5-10 minutes depending on the size of your cauliflower pieces. Drain and add cooked cauliflower to spinach-lemon mixture.
Add flour, cheese, garlic, parsley and some salt and pepper to the cauliflower and mix lightly. Add beaten eggs and mix again. If the mixture is too dry, add a little stock.
Heat a small amount of olive oil in nonstick skillet over medium heat. We're not frying these, just getting them seared off so you don't need a lot. If you have an oil mister, this is a perfect place to use it!
When hot, add ¼ cup of the mixture to the pan for each patty, being careful not to crowd the patties or get them too close to flip. Cook until lightly golden, flip and cook until light browned. Place the patties on a large sheet pan and bake in the oven for 7 minutes. Fritters will puff up slightly and be cooked all the way through.
*If you don't have self-rising flour, you can make your own by combining 1 cup AP flour, 1½ teaspoons of baking powder and ½ teaspoon of salt. Use a whisk or sifter to combine well.