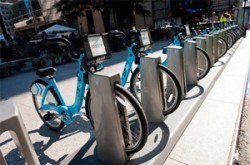 Mayor Rahm Emanuel announced that in the first three weeks of the Divvy bike share system in operation, Chicagoans and visitors to the city have taken more than 50,000 trips and have collectively ridden an estimated 175,000 miles.
On Saturday afternoon, Divvy was the busiest bike sharing system in the world as measured by the percentage of available bikes in use, beating the popular systems of Rio de Janeiro, Taipei and New York City, according to researchers at the Centre for Advanced Spatial Analysis (CASA), an interdisciplinary research group at University College London.
Divvy staff plans to install up to 40 new stations beginning July 29th, ramping up to 300 stations and 3,000 bikes by the end of this summer. The new locations are denoted on the stations map at DivvyBikes.com. By next spring, Divvy will be in 400 neighborhood locations with 4,000 bikes.
Each Divvy station has a touchscreen kiosk, station map, and a docking system that releases bikes using a Member key or ride code. Customers can purchase $75 Annual Memberships or $7 24-Hour Passes, which allow riders unlimited trips in that period. The first 30 minutes of every trip are included in the cost of the Membership or Pass, and incremental fees apply to trips that exceed 30 minutes.
The system is dubbed "Divvy" to reflect the nature of bike share, where members "divide and share" the use of the bikes. The bicycles' distinctive "Chicago Blue" paint is the same color as the stripes on the Chicago city flag. Chicagoans can find out more about the system through social media on Twitter at @DivvyBikes and on Facebook at www.facebook.com/DivvyBikes.