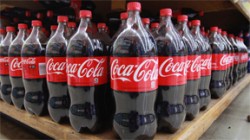 Passion. Pride. Love. That's what Mexican soccer fans feel for their team. Each match brings millions of people together year after year, generation after generation. Coca-Cola shares that same unconditional commitment, captured in a new Hispanic marketing campaign that celebrates the passion for the sport, the fans and the 30-year relationship with the Mexican National Team (MNT).
The campaign includes a new television commercial titled "Wave," that speaks to fans who share the love for the sport and the traditions that bring people together match after match. Mexican soccer matches in the United States can be considered home games for the MNT. Coca-Cola understands that passionate 'home field' advantage for Mexico – even against the United States – and the importance of passing it on to future generations.
Coca-Cola has been a proud supporter and partner of the MNT for more than 30 years in Mexico and 10 in the U.S. as part of the Mexican National Team's annual tour. With Mexico's triumph at the London Olympics 2012 and the excitement building up around the 2014 FIFA World Cup, passion is at an all-time high for soccer fans, while expectations from both the team and the brand have increasingly grown.