By: Blanca Flores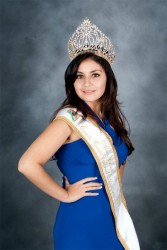 Cicero Queen 2012, Melissa Lopez, shared with me what it's like to be Señorita Cicero and also gave some advice to the women running this year.
When asked why she wanted to become Señorita Cicero 2012 Lopez said, "I wanted to be Señorita Cicero 2012 because I thought it would be a good opportunity. It was a good contest and it was not all about beauty but knowing about your culture and traditions because it does target the Mexican audience. When speaking, when I was running for Señorita Cicero, I had to learn not only about my traditions but also about the history of Mexico and how we as Chicanos can look into our daily lives. Besides that I liked the fact that is very much targeted to Mexican Americans who are here and it makes you want to become involved within the community."
Lopez worked with Toys for Tots and is a teacher with the Cicero Area Project. She works with high school and college students and teaches them communication and English as a second Language. "I see teaching as a possibility in the near future now," said Lopez and added, "I can relate to them because we all come from the same community and them seeing me as a mentor has really meant a lot. It has taught me that Out of the 30 kids that I teach, at least ten will come back to me for advice on their resume or when electing graduate school or college."
The Señorita Cicero 2013 contest is next week, September 5th. After having a year to do great things for the Cicero communities, Lopez's advice to the girls running this year is 'to have a mission. "Mine was always promoting education because it is very important. I was promoting it when I was teaching the kids or when and when I did public speaking promoting for Cicero area project programs. I stressed for parents to support their kids in an educational perspective if they had to go out of the state/country to support their kids because it can be benefit them in the long run and provide more opportunities." Once you have a mission, follow through. Learn more and promote your culture/s. If you have more than one, promote both so other people can identify with you. Learn more about your heritage. Good luck Señoritas!