By: Ashmar Mandou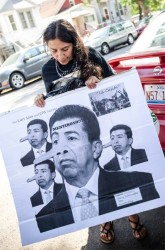 Whittier Dual Language Elementary School parents, students, teachers, and community residents held a community march and forum Tuesday afternoon at the Rudy Lozano Library to discuss the recent demolition of Whittier's field house, La Casita, an after-school center built in 2010 for students and parents.
At the forum, parents and community members discussed jumpstarting a campaign to rebuild the facility with the help from TIF funds and Alderman Danny Solis, who recently admitted during an interview on WTTW, to knowing about demolition plans of La Casita and kept the information secret from parents and volunteers who have been organizing programs for the last three years.
Parents and allies are demanding that the field house be rebuilt with more than half a million dollars in TIF funds promised 'to rehab the destroyed field house.' Parents won that funding commitment from CPS brass and Solis in 2010, after a 43-day occupation by parents and allies to oppose plans to demolish the field house and replace it with a soccer field. Alderman Solis was reported at the time to be open to allowing the proposed soccer field to be used by a private high school, Cristo Rey, across the street from the school.
'Demolishing the building on the eve of a new school year has destroyed a vital educational resource for the neighborhood school and it's largely low-income, Latino students that must be restored,' said one parent at the march. La Casita's destruction took place two weeks ago in the early hours of Saturday. Under the Alderman's go-ahead, a demotion crew was hired to tear down La Casita. More than a dozen parents, teachers and supporters were arrested for opposing the demolition. Contractors on site were said to have given residents an explanation as to why the La Casita had to be torn down.
'They said they were conducting an asbestos issue, even though no asbestos removal protocols were followed," said one resident. This response resulted in a wave of questions from concerned community members. Whittier Parents and community residents will begin hosting a series of community forums in the coming weeks.