Second Federal Credit Union, division de Self-Help Federal Credit Union, nombró a Rudy Medina como su presidente. Medina dirigirá la continua conversion de Second Federal Credit Union (SFCU), anteriormente Second Federal Savings and Loan en el sindicato de crédito de desarrollo comunitario más grande de la nación.
         Medina se unió a Second Federal en el 2009 como gerente de la sucursal de La Villita. Empezó su carrera bancaria hace 14 años y ha ocupado una variedad de posiciones en la banca minorista y de préstamos, en varias instituciones financieras, nacionales y locales. Medina tiene amplia experiencia sirviendo al mercado hispano donde están localizadas las tres sucursales de SFCU: La Villita, Cicero/Berwyn y Brighton Park/Back of the Yards. Se mantiene también cívicamente activo, sirviendo en la mesas directivas de Rauner YMCA y la Misión de San José Obrero.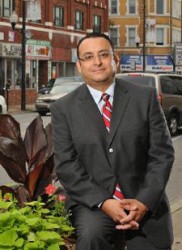 En el 2012, el proyecto Resurrección ("TRP") y Self-Help Federal Credit Union ("Self-Help") forjaron una alianza única para prevenir una futura desestabilización de comunidades en el sector sudoeste de Chicago, rescatando al fallido Second Federal Savings and Loan. Este quedó convertido en un sindicato de crédito de desarrollo comunitario el 1º de febrero del 2013. Desde febrero, TRP y Self-Help han trabajado juntos para lograr mejoras en el servicio de las sucursales de Second Federal, mientras conducen enlaces comunitarios para nuevos clientes y los ya establecidos..
        El personal del Second Federal, con el apoyo de TRP, ha estado trabajando con prestatarios en dificultades para ayudar a sus familias a conservar sus casas. Second Federal ha estado ofreciendo también nuevos productos, como el Préstamo Dreamer, un préstamo de $465 para que los jóvenes inmigrantes tramiten sus solicitudes de visa con el programa de Acción Diferida del gobierno. Desde mayo, Second Federal ha cerrado 17 nuevas hipotecas y comenzará a ofrecer préstamos personales y para automóviles este otoño. SFCU planea ofrecer una celebración comunitaria el sábado, 21 de septiembre del 2013.