Por Ashmar Mandou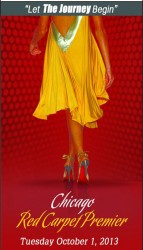 La Semana de la moda Latina está a solo unos días y no podemos contener nuestro entusiasmo sobre la gran cantidad de talento que llegará a la ciudad. La semana próxima, del 1º al 5º de octubre, diseñadores internacionales y celebridades locales, bloggers de la moda y artistas del maquillaje nos deleitarán con su presencia para compartir sus puntos de vista sobre su industria, su última colección y consejos sobre como vivir una vida más feliz y con estilo.
Ahora en su séptimo año, el tema de este año es The Journey, para celebrar los alcances y logros de LFW desde su inicio. LFW incluirá pasarelas, presentación de celebridades, recepciones VIP, almuerzos y mercados de moda y mucho más. Hemos incluído solo un poco de lo que se espera durante la Semana de la Moda Latina. Si desea más información y ver fotos, síganos en Facebook. www.facebook.com/lawndalenews. o visítenos en www.latinofashionwk.com.
Martes, 1º de octubre
EL VIAJE: USTED HA LLEGADO – NOCHE DE APERTURA DE ALFOMBRA ROJA
Recepción VIP: 6:00 PM | Pasarela: 7:30 PM
BOLETOS Estudiantes: $10 | General: $25 \ VIP : $75 código de uso ASPIRE
Atuendo Preferido: Profesional a Cocktail Chic
No se pierda la llegada del 7º Aniversario de Latino Fashion Week® Chicago – The Journey. Unase al movimiento LFWE durante la celebración de cinco días de la Moda de Chicago, con una Recepción de Alfombra Roja a los Medios de Comunicación a beneficio de Safe Haven.
Viernes, 4 de octubre
EL VIAJE DE LA VIDA, A TRAVES DE LOS DEPORTES & LA MODA
Recepción VIP: 6:30 PM | General: $3- | VIP $200 Early Bird termina 9/15, $220 después
Atuendo Preferido: Edgy Glam
Hoy, LFW presentará una pasarela con algunas de las más populares tendencias en la moda del deporte y la alta costura, incluyendo al diseñador de celebridades Roberto Rodríguez y Adriana Echeverría de Bolivia. LFW, respaldado por Crown Imports ofrecerá esta velada de moda con una recepción VIP exclusiva a beneficis de obras de caridad de The V Foundation.
Sábado, 5 de octubre
EL VIAJE: ATERRIZAN LOS JETSETTERS
Recepción VIP: 7:00 PM | Pasarela: 8:30 PM
Boletos Estudiantes Económicos $20 | Vagón: $40 \ Negocios VIP/Primera Clase: $80 Early Bird termina el 9/15, $100 después
Atuendo Preferido: Glam Extravagante
Esta brillante velada comienza con una recepción de Celebridades VIP a beneficio de HACE, seguida por nuestras pasarelas finales, inluyendo a Pineda Covalin, de México y otras colecciones de diseñadores, nacionales e internacionales.