By: Ashmar Mandou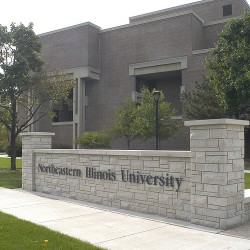 The Avondale neighborhood is about to welcome a new campus replete with resources for community residents.  
In a press release emailed to media earlier this week, Northeastern Illinois University (NEIU) and Logan Square Neighborhood Association (LSNA) announced their new partnership to bring, El Centro Campus to Avondale residents. 
"Northeastern has enjoyed partnering with the Logan Square Neighborhood Association on programs such as, Grow Your Own and Developing Active Leaders in Education," said Sharon Hahs, president of Northeastern Illinois University, in a statement to Lawndale Bilingual Newspaper.  "We believe it is important to be a community partner, and we look forward to many other join initiatives with the Logan Square Neighborhood Association in the future."   
Both institutions will formally make the announcement during a press conference this Friday at the Logan Square Neighborhood Association.  At the press conference, Hahs and Nancy Aardema, executive director of the Logan Square Neighborhood Association, will ceremoniously sign a partnership agreement at the event. 
El Centro Campus, located at 3390 N. Avondale Ave., is currently under construction and will open in the fall of 2014. 
"We are so pleased to have this collaboration between LSNA and NEIU.  It opens doors for more Logan Square residents who have traditionally experienced barriers to higher education," said Aardema.  "The DALE program is helping young people become the first person in their family to go to college.  The GYO program gives an opportunity for adults to go back to school to potentially return to the community as teachers." 
LSNA is a community agency that convenes and empowers the organizations of Logan Square, Avondale, and Lathrop Homes to create and maintain diverse and safe neighborhoods.  NEIU is a fully accredited university serving more than 11,000 full and part-time undergraduate and graduate students.