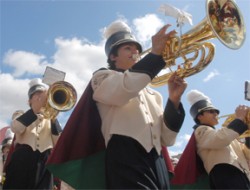 The Houby Fest Committee announced that the 45th Houby will be held on the "L" strip from Lombard to Austin. The parade will be Sunday October 6th at noon. The theme of this year's Fest will be Shop President Larry Dominick's "New Cicero."
Cicero is encouraging all Cicero businesses to hand in coupons from their business to be put in shopping bags that will be handed out to residents, patrons and visitors. Business owners should bring the coupons to Cicero Town Hall 4949 W. Cermak 3rd Floor by Sept 26.
"We want to create handout bags that include information about the various businesses that will be distributed to Houby Festival attendees, and we need our local businesses to participate," explained Town President Larry Dominick. Dominick urged businesses that wish to participate to contact the Town of Cicero Special Events Department at 708-656-3600 for more information.
The official Kick-off of the Houby Fest will be October 1 at Central Federal Savings, Austin and Cermak Road beginning at 11:00a.m. Performing in this year's Houby Parade Sunday, Oct. 6th is the Chicago Boyz. The Chicago Boyz is a group gymnasts who perform mainly with jump ropes. They were one of the eight finalists in this year's last competition of America has Talent.