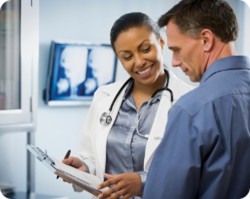 Last week, Cook County Board President Toni Preckwinkle and Dr. Ram Raju, CEO of Cook County Health and Hospitals System marked Hispanic Heritage Month with Cook County Commissioners Jesús "Chuy" García (7th district) and Edwin Reyes (8th district) by celebrating the positive impact that CountyCare is having in the local Hispanic community.
Preliminary data indicates that CountyCare is reaching every corner of Cook County, with concentrations high in traditionally Hispanic neighborhoods. While the numbers are overall exceeding expectations, officials believe that thousands more are eligible for the no-cost program that provides access to primary and specialty care doctors, prescriptions, diagnostic tests and more. Eligible Cook County residents do not have to wait until October 1 when the Insurance Marketplace opens, or January 1 when the Affordable Care Act goes into effect to enroll.
This significant impact of CountyCare extends beyond Cook County's Hispanic community. Dr. Raju announced a milestone for the program: more than 100,000 CountyCare applications have been initiated. CCHHS is on track to surpass the program's original goal of 115,000 by December 31, 2013.
CCHHS also announced that Saturday, Sept. 28 and Sunday, Sept. 29 is CountyCare Weekend. On Saturday, FQHCs around the county are mobilizing this weekend to assist people who want to apply. People simply need to bring their documents to any of the participating FQHCs and an application assister will help them apply.
To qualify, applicants must live in Cook County, be 19-64 years of age without dependents at home, have a Social Security number and be a legal immigrant for at least 5 years or a U.S. citizen. Yearly income must be below $15,282 for an individual or $20,628 per couple. Applicants must not be receiving or eligible for Medicaid, Medicare or CHIP. Learn more about CountyCare by calling 312.864.8200 or visit www.CountyCare.com.  To view the full list of agencies who are participating in CountyCare Weekend head to our website, www.lawndalenews.com.