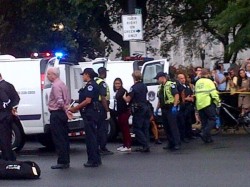 Approximately 100 women were arrested last week after blockading the intersection outside the House of Representatives to protest the House's inaction on comprehensive immigration reform that treats women and children fairly. Among the arrested was Yesenia Sanchez, P.A.S.O. leader and Illinois Coalition for Immigrant and Refugee Rights board member.
The act of civil disobedience included the largest number of undocumented immigrant women to willingly submit to arrest. The 100 women who were arrested came from 20 states across the country to draw attention to the fact that women and children constitute three-quarters of immigrants to the U.S. and disproportionately bear the burden of the failed immigration system.
"Each one of us here today understands what incredibly high stakes we are talking about—immigration reform is not just a piece of legislation but the ability for us to take care of our families," said Pramila Jayapal, co-chair of We Belong Together: Women for Common-Sense Immigration Campaign.
Women who participated in the civil disobedience are demanding that the House of Representatives shows courage in passing fair immigration reform that includes the priorities of women: a roadmap to citizenship for undocumented women, a strong family immigration system which remains the primary way that women obtain legal status and strong protections for women workers and victims of violence.
"We cannot build a strong country when children and families do not even know what tomorrow will bring," said Rocio Inclan, Director of Human and Civil Rights at the National Education Association, the nation's largest union.