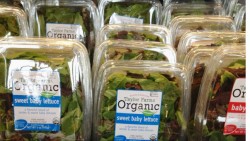 The Mexican farm linked—in part—to a stomach bug outbreak that has sickened more than 600 people in 22 U.S. states can resume operations, even though the source of the infections remains undiscovered, U.S. health officials said Tuesday.
Taylor Farms de Mexico can resume operations after investigators found conditions there "in accordance with known food safety protocols," the U.S. Food and Drug Administration said. The operation voluntarily shut down earlier this month after its salad mix served at Olive Garden and Red Lobster restaurants was linked to 242 cyclospora infections in Iowa and Nebraska, the Associated Press reported.
The number of infections now stands at 610 illnesses in 22 states. At least 43 people, or 7 percent, have been hospitalized with severe cases of infection. No deaths have been reported, according to statistics released Tuesday by the U.S. Centers for Disease Control and Prevention. The outbreak is unusual because U.S. investigators haven't been able to trace all 610 illnesses back to one source, and the farm in Mexico showed no signs of contamination, the AP said.
The source of the outbreak in at least two states—Iowa and Nebraska—was traced earlier this month to Taylor Farms de Mexico, the Mexican branch of Taylor Farms of Salinas, Calif. Cases of cyclosporiasis are caused by a single-celled parasite and can't be spread from person to person. The parasite has to be ingested through contaminated water or foods such as fruit and vegetables, according to the CDC.