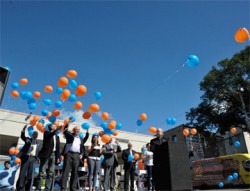 Casi un año después de que Second Federal Loans and Savings iba a ser subastado por FDIC a presuntos depredadores y especuladores, la afiliación que rescató al banco sostuvo una celebración comunitaria junto a más de 100 residentes el pasado sábado, 21 de septiembre. El Gobernador Pat Quinn, la Procuradora General del Estado de Illinois, Lisa Madigan, el Comisionado del Condado de Cook, Jesús García, el Concejal Ricardo Muñoz y representantes de Self-Help Federal Credit Union, National Credit Union Administration y Wintrust Financial se unieron al Proyecto Resurrección (TRP) para anunciar el renacimiento de Second Federal como sindicato de crédito.
"Hoy celebramos la resurrección de una institución que tiene un orgulloso legado de servir a las comunidades inmigrantes por más de 100 años", dijo Raul Raymundo, CEO de TRP y maestro de ceremonias del evento.
Cuando Second Federal Savings and Loans falló en el 2012, FDIC planeó subastar los activos del banco, incluyendo $161 millones en depósitos y 1,100 notas de hipotecas con un valor nominal de $141 millones. TRP y Self-Help Federal Credit Unioin, temiendo que la subasta de 1,100 notas de hipotecas podrían exponer a los propietarios a aumentar su riesgo de embargo, forjaron una alianza única para rescatar al banco. La sociedad trabajó con FDIC para asegurar los $141 millones en préstamos de hipoteca antes de trabajar directamente con Wintrust Financial, que previamente había adquirido $161 millones en depósitos. Wintrust apoyó el rescate de Second Federal accediendo a vender los activos de nuevo a la afiliación TRP/Self-Help.
"Estamos celebrando lo que puede lograrse con el trabajo conjunto", dijo el Gobernador Quinn, quien enfatizó la importancia de las afiliaciones públicas y privadas, que trabajan juntas para lograr nuevas victorias para la comunidad.
Second Federal trabaja también para preservar los sueños de la gente que ya tiene hipotecas. Como parte de la afiliación, el personal de TRP trabaja con los titulares de hipoteca de Second Federal que luchan con sus pagos. Una familia, Zenaida y Sixto Zarco, se vieron en dificultades cuando Sixto cayó enfermo y tuvo que dejar de trabajar. Se atrasaron en sus pagos y estaban en riesgo de embargo. Pero trabajando con TRP y Second Federal recibieron la ayuda que necesitaban. Compartieron su historia con la prensa. Al terminar la conferencia de prensa, los dignatarios y los invitados soltaron más de 100 globos al aire para simbolizar el despertar de los sueños de la comunidad.