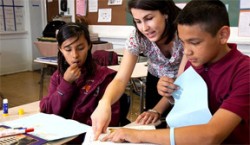 Teach For America announced that it will bring more than 600 new Latino teachers to classrooms nationwide this school year, marking the largest incoming Latino corps in the organization's history. These Latino teachers, triple the number the organization was providing to schools just five years ago, represent 11 percent of Teach for America's total incoming corps of 6,000, and are among the 39 percent who identify as people of color. Twenty-seven percent of all incoming corps members are the first in their families to attend college, and nearly 40 percent received Pell Grants. Twenty-three percent are graduate students or professionals.
"I'm inspired by this incredible group of Latinos who are dedicating their talents and energy to giving all kids an equal chance in life," said Elisa Villanueva Beard, co-CEO of Teach For America. "It is undeniable that teachers who share the backgrounds of the students they teach have the potential to make a profound additional impact with the next generation of Latino leaders."  Latinos make up almost ten percent of Teach For America's total corps of 11,000, who will impact more than 750,000 students in 48 regions across 35 states and the District of Columbia.
Together with the Hispanic Heritage Foundation (HHF), the Hispanic Scholarship Fund (HSF), the Congressional Hispanic Caucus Institute (CHCI), the Hispanic Association of Colleges and Universities (HACU), New Futuro, Management Leadership for Tomorrow (MLT), and the National Society of Hispanic MBAs (NSHMBA), the organization works to provide all students access to the life opportunities afforded by an excellent education.
 "Hispanic Heritage Foundation is excited to be a partner with Teach For America in our joint work to inspire and prepare Latino leaders for the classroom and help ensure our children are getting the best education possible," said Antonio Tijerino, president and chief executive officer of the Hispanic Heritage Foundation.