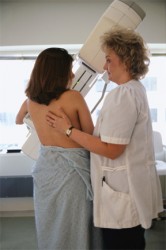 The Metropolitan Chicago Breast Cancer Task Force (The Task Force) launches it's Beyond October! initiative to provide over 1,000 free mammograms to uninsured women. This initiative emphasizes the importance of mammograms beyond October's Breast Cancer Awareness month and helps to lessen waitlists in the State's Illinois Breast and Cervical Cancer Program. Annual mammograms are key for early detection of breast cancer, which significantly increases the chances of successful treatment and survival.
"Our Beyond October! initiative aims at providing access to quality mammograms to uninsured women. African American women, particularly, should be taking advantage of this program since even though African American women in Chicago get breast cancer less often than white women, they die from breast cancer more often," said Dr. Anne Marie Murphy, Executive Director of the Task Force.
Starting the month of October and until the FREE mammograms are depleted, The Task Force will be registering uninsured women that are 40 and older for a FREE mammogram.
TO SIGN UP FOR A FREE MAMMOGRAM UNINSURED WOMEN CAN:
1- Call: 312-942-1899
2- Register Online: www.chicagobreastcancer.org
3- On Site Registrations: October 31, 2013, Beyond October! Kickoff event at Trinity United Church of Christ, 400 W. 95th Street.