By: Ashmar Mandou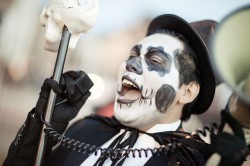 Break out the 'calaveritas' and dress in your best ghoulish assemble for Halloween and Día de los Muertos is here! Neighborhoods across the city are ripe with mischievous and spooky fun for all ages from terrifying haunted houses, to monster mashes, to ghostly parades; we have your list of things to do to celebrate the spookiest time of year.
ElevArte Community Studio
Muertos de la Risa with a Sugar Skull rush
Friday, Nov. 1st
Dvorak Park, 1119 W. Cullerton
3p.m. to 7p.m.
Free to public
ElevArte Community Studio's Day of the Dead will host their 34th Annual Día de Muertos celebration. This year they focus on raising awareness in health education.
Mujeres Young Professionals Advisory Council
Baile de las Calaveras
Friday, Nov. 15th
Abbey Pub, 3420 W. Grace St.
7:30p.m.
Tickets: $25 until Nov. 1st, $35 after Nov. 1st, $35 at the door
Visit www.mujereslatinasenaccion.org.
Redmoon Theater
Skelebration
Saturday, Nov. 2nd to Sunday, Nov. 3rd
Redmoon Theater, 2120 S. Jefferson St.
Tickets: $12 to $20
Skelebration will be a unique theater experience at Redmoon Theater to celebrate Día de los Muertos.
Visit www.redmoon.org.
Screams in the Park
Thursday, Oct. 24th –Nov. 2nd
MB Financial Park at Rosemont, 5501 Park Place, Rosemont, IL
Tickets: $15 to $25
Head to the annual H.H. Holmes-themed haunted house located in the basement level of the parking garage.
The Fear Haunted House
Oct. 24th through 27th, 30th through 31st.
End of Navy Pier, near Landshark Beer Garden
Tickets: $30
www.navypier.com
The award-winning Fear Haunted House is an aggressive adult-themed haunted house nighttime experience.