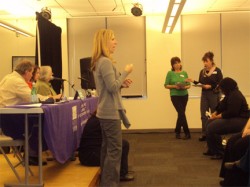 El sábado, 19 de octubre, Access Living convocó a una reunión en el Ayuntamiento sobre discapacidad y educación. En la junta, a la que asistieron más de 70 personas, docenas de padres, antiguos estudiantes y personal de educación especial testificaron ante un panel de expertos. Las personas testificaron sobre su preocupación sobre el personal, su preocupación sobre los Planes de Educación Individualizada y sus preocupaciones sobre la educación y el apoyo a las necesidades de estudiantes discapacitados. En uno de los casos, una intérprete de lenguaje a señas de la escuela testificó que, por lo escaso del personal, algunas veces era utilizada como vigilante del comedor en vez de intérprete de lenguaje a señas.

La junta del Ayuntamiento fue patrocinada por Access Living, Family Resource Center on Disabilities, Equip for Equality, Family Support Network of Illinois e Illinois Life Span Project of the Arc.
Margie Wakelin, abogada de Equip for Equality; Rod Estvan, Analista de Regul.aciones de Educación de Access Living; y Sharon Soltman, abogada privada que pusiera la demanda de Corey H. contra las Escuelas Públicas de Chicago, estaban en el panel. Bajo la Demanda de Corey H, las Escuelas Públicas de Chicago fueron demandadas por segregar ilegalmente a los estudiantes de educación especial. Corey H. En 1998, CPS resolvió la demanda antes de ir a juicio, acordando enviar a más niños con necesidades especiales de regreso a las escuelas de los barrios y dentro de las clases de educación general. Soltman y los otros panelistas pasaron la mañana respondiendo a la gente que testificaba, ofreciendo guía específica y dando seguimiento a las preguntas y preocupaciones.
       No toda la gente que testificó eran padres de niños actualmente en programas de educación especial, o personal de programas de educación especial. También tomaron la palabra antiguos estudiantes de educación especial. Curtis Harris, abogado de incapacidades fue el primer Estudiante de CPS en el Programa de Inclusión de Autismo. Habló sobre su experiencia y enfatizó la importancia de apoyo de calidad para estudiantes discapacitados, En el pasado, Harris había hablado en las Reuniones de la Junta de CPS contra los cortes de fondos para programas de educación especial. Inmediatamente después de la reunión del Ayuntamiento hubo una feria de recursos para apoyar a estudiantes discapacitados, sus familias y sus aliados.