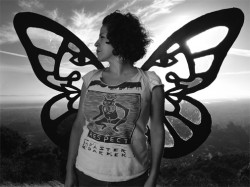 Como parte del programa One Book, One Chicago, la Biblioteca Pública de Chicago da la bienvenida a la afamada artista interdisciplinaria y organizadora cultural Favianna Rodríguez, para un debate sobre el tema de 'donde los derechos del inmigrante se cruzan con el arte'. El evento gratuito tiene lugar el martes, 12 de noviembre a las 6:30 p.m. en el Auditorio Cindy Pritzker, Nivel Inferior, en la Biblioteca Harold Washington, 400 S. State St.
Además, a través de una afiliación con el Museo Jane Addams Hull-House, YOUmedia, de la Bilioteca Pública de Chicago y otros, Rodríguez aparecerá en una serie semanal de eventos y talleres en Chicago, del 12 al 15 de noviembre – incluyendo un evento YOUmedia para adolescentes, en la Biblioteca Harold Washington, el 12 de noviembre a las 4 p.m.
Como parte de la selección anual de One Book, One Chicago, explorando como la inmigración ha delineado – y continúa delineando – Chicago,  estamos leyendo The Warmth Of Other Suns: The Epic Story of America's Great Migration [El Calor de Otros Soles: La Historia Epica de la Gran Migración de America] de Isabel Wilkerson. Para más información visite onebookonechicago.org o llame al (312) 747-4050.