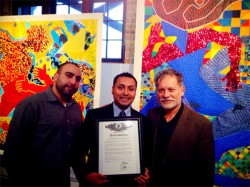 El Departamento del Asuntos del Veterano de Illinois (IDVA) reconoció a Edgar Delgado, veterano de la Fuerza Aérea de E.U., voluntario y miembro prominente de la comunidad hispana, como el Veterano del Mes de Illinois para Octubre del 2013.
        Delgado fue homenajeado en una ceremonia el martes, 15 de Oct., en el Instituto de Arte y Cultura Puertorriqueño. Delgado se alistó en la Fuerza Aérea en el 2000 y sirvió aproximadamente cinco años. Se graduó de la Universidad de Washington y recibió el Premio Líder Destacado del Año de Finance Society. Delgado es un líder activo en National Society of Hispanic MBAs Capítulo Chicago, con actividades en Boy Scouts de America y dentro de la comunidad. Además de su trabajo voluntario ayudando con el equipo de baloncesto de la Secundaria Dr. Pedro Arbizu Campos, ha contribuído con más de 6,000 horas en varias organizaciones, en los últimos cuatro años.
        Como líder en la comunidad de veteranos, sirve en el Concilio de Asesoría de Veteranos de Illinois y es miembro de la Mesa Directiva Asociada El Valor, que tiene la misión de apoyar y desafiar a las familias urbanas para que logren la excelencia y participen de lleno en la vida comunitaria. También es un líder dentro de Student Veterans of America (SVA), donde ayuda con iniciativas para el crecimiento de la red de exalumnos veteranos y recaudaciones de fondos. Reside en Chicago, el Condado de Cook, IL y fue nominado por Víctor Herrera, vicepresidente ejecutivo de NSHMBA, Capítulo Chicago. Delgado es también participante de la campaña Líderes de MillerCoors, que destaca el trabajo de los líderes hispanos de hoy en día y exhorta a las próximas generaciones de líderes a mejorar sus destrezas comerciales, ampliar sus redes de trabajo y convertirse en líderes por derecho propio.