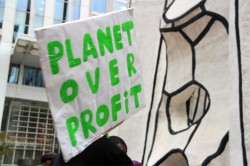 Más de 100 estudiantes y miembros comunitarios de todo Chicago se reunieron el viernes para presionar al Departamento de Recursos Naturales de Illinois (IDNR) a sostener tres audiencias públicas sobre fracturamiento hidráulico ("fracking"). Los manifestantes pidieron que IDNR niegue las solicitudes de permisos que creen comprometen la salud y seguridad de los residentes de Illinois.
        La manifestación fue solo una de más de 200 acciones coordinadas como parte de Global Frackdown, día internacional de acción para promover la energía renovable limpia en vez combustibles sucios extraídos del fracturamiento hidráulico. La acción Chicago, organizada por Chicagoland Against Fracking and Food and Water Watch, eligió como blanco a IDNR, que actualmente está en proceso de dictar reglas bajo el marco del proyecto regulatorio IL fracking, aprobado por el Gobernador Quinn en junio. Al esfuerzo local se unieron más de 300 grupos de asesoría y ciudadanos de seis continentes, para declarar públicamente los peligros del fracturamiento hidráulico.
        Hay mucha controversia en torno al proceso de "fracking" en el cual un tóxico coctel de agua, arena y químicos se inyecta a alta presión una milla bajo tierra para crear fisuras que liberan petróleo y gas natural. El 'fracking' genera enormes cantidades de aguas residuales, peligrosas y potencialmente radioactivas y ha sido vinculado fuertemente a contaminaciones bajo tierra, contaminación ambiental y un aumento en la actividad sísmica.
        El proyecto regulatorio encontró l oposición de una multitud de grupos en Illinois. A pesar de los intentos para reunir la inclusión en el proceso regulatorio de IDNR, los ciudadanos se han visto repetidamente ignorados. La Página de Facebook de Chicagoland Contra Fracking es: Factbook.com/ChicagolandAgainstFracking