By: Ashmar Mandou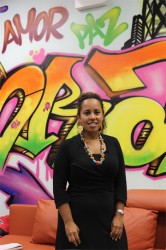 When you are in the presence of Sol A. Flores, executive director of La Casa Norte in Humboldt Park, you are immediately enveloped with a warm embrace and brimming smile.
"I am having the time of my life. We get to make a difference in the lives of countless individuals and families who walk through La Casa Norte. It's a great feeling," said Flores.
Her enthusiasm and tenacity for social justice were qualities Flores harnessed from a very early age by watching her grandparents, who emigrated from Puerto Rico in the 1950s, serve as one of the first Latino foster care families in the state of Illinois. "We were a big family and we always had foster kids coming in. My grandparents were emergency foster care parents. So sometimes they would get a knock at the door at three o'clock in the morning by the department of family services with a baby in their arms. That's the world that I lived in. I learned about compassion by watching my aunts and uncles, by watching my mom and grandparents. I grew up knowing the importance of justice and the meaning of fellowship," said Flores.
Eleven years ago, Flores received the opportunity to implement the lessons she learned after two ex-Vietnam vets approached her with the idea of helping to develop a center that addressed the increasing issue of youth homelessness in the community. "At that time I had just been laid off and volunteered at the San Lucas United Church of Christ. My aunt told me about this meeting with these two guys named Keith and Peter. She urged me to attend the meeting, so I did."
After a meeting of the minds, Flores was urged by the ex-Vietnam vets to be the face of La Casa Norte, much to her surprise. "I knew nothing about youth homelessness; nothing about public housing. I was so nervous at the beginning," laughed Flores. "The very first day we opened our doors at La Casa Norte, it was just myself and one other employee. We had a sign on the window that had our name on it. We had no idea what we were in for, but we always had a vision of where we wanted La Casa Norte to go. And I had no problem asking for help."
In 2002, Flores became the founding Executive Director of La Casa Norte, a community based organization dedicated to serving youth and families affected by homelessness. Since its inception, La Casa Norte has helped more than 20,000 homeless and at-risk individuals by providing stable housing and a plethora of youth-oriented programs. Flores' determination and vision are what helped La Casa Norte expand to a multi-million dollar organization that not only offers housing, but hope.
"This job has humbled me tremendously. To be able to meet these amazing individuals and see their lives transform is what keeps me going. I have been here for eleven years and I continue to feel challenged; so long as we are making a difference and continue to fight for justice. That's what it's all about."
Much like Sol Flores and La Casa Norte's mission to help youth and families in hard times, ComEd is dedicated to helping its customers in financial hardships. That's why, through the ComEd CARE programs, we offer a range of financial assistance programs to help qualified customers with paying their electric bills, and we support energy-assistance programs that help those in need.