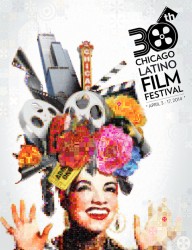 International Latino Cultural Center of Chicago (ILCC) presented the official poster for the 30th Chicago Latino Film Festival at a sold-out fundraising gala held on Friday, Nov. 8th at the River East Arts Center. Designed by Venezuelan artist Sylvia Nieves, the poster depicts legendary Brazilian singer and actress Carmen Miranda wearing her signature hat, which, instead of fruits, is composed of several pixilated elements that embody the city of Chicago, film and the vibrancy of Latin culture including such iconic images as the Willis Tower, the Chicago Theatre marquee, film reels, movie tickets, flags from all over Latin America and Mexican tiles arranged in different sizes and color palettes.
"This poster reflects the dynamic spirit so characteristic of Latino culture," said Pepe Vargas, founder and executive director of the ILCC, producer of the Chicago Latino Film Festival.
"I feel very honored to have been chosen to design the poster for the Festival's 30th Anniversary," said Sylvia Nieves. "I am very passionate about the Festival and appreciate the amazing work Pepe and his associates have been doing for the past 30 years in establishing a contact between movie lovers and our diverse Latino cultures."
Winner of the Chicago Latino Film Festival Poster Contest in 2002, Sylvia Nieves has over fourteen years of multicultural and general market advertising experience including branding and direct advertising for television, print, radio, retail and digital mediums. She was also the founder of the multicultural department at advertising agency DRAFTFCB. The 30th Chicago Latino Film Festival will take place April 3-17, 2014. The full schedule will be announced early next year.