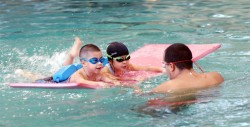 Mayor Rahm Emanuel and Chicago Park District Superintendent Michael Kelly announced that the number of residents across the City enrolled in fall Chicago Park District programs has risen to 81,625, up from 80,000 who were enrolled in spring programs.
Registrations for fall programming have grown by 14 percent in comparison to last fall, in which 71,500 residents registered. Chicago Park District online registrations have also set a new record with 30,038 registrations to date as compared to the previous record of 26,930 registrations that was set in the spring 2013. Estimated gross program revenue has increased 17 percent to $2.22 million versus $1.89 million last fall.
In preparation for winter 2014 program registration, residents can view Chicago Park District Winter programs and create wish lists at www.chicagoparkdistrict.com beginning Monday, November 18. In-person registration for most parks begins on Saturday, December 7. Winter programs begin on Monday, January 6, 2014. For more information, contact your local park or visit www.chicagoparkdistrict.com.