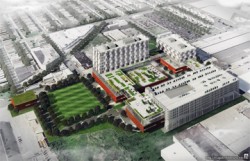 Focal Point se enorgullece en anunciar destacado equipo de afiliados que ayudan a hacer la visión de Focal Point una realidad: El socio de desarrollo, Jones Lang LaSalle, los arquitectos de HDR Architecture y los consultantes de investigación de mercado August Partners.
          "Este equipo de clase mundial hará realidad el campus comunitario de Focal Point – ofreciendo un lugar de reunión central para promover el bienestar de los Sectores Oeste y Sudoeste de Chicago", dijo el Presidente y CEO de Chicago Southwest Development Corporation, quien concibiera Focus Point, Guy A.  Medaglia.
          De North Lawndale a Little Village a Back of the Yards, no hay un lugar de reunión central donde los residentes puedan encontrarse y comentar sus necesidades, hasta ahora – con Focal Point. Con su innovador enlace al desarrollo comunitario, Focal Point es un verdadero elemento de cambio", dijo Joseph Caprile, Vicepresidente Senior de Jones Lang LaSalle.
          El visionario diseño, basado en investigaciones de Focal Point, fue desarrollado por HDR Architecture y ya ha logrado elogios nacionales del Instuituto Estadounidense de la Academia de Arquitectos de Arquitectura pro salud (AIA/AAH) recibiendo un PremioNacional de  Diseño en Master Planning Urban Design, en la categoría de Healthcare Settings.