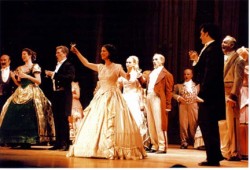 What's it like to be the most beautiful, most desired young woman who throws the wildest parties in all of Paris – and to be losing your life just as true love finally finds you? Welcome to the glittering, dark, hope-filled, doomed world of the Parisian demimonde, where the romantic tragedy of Verdi's La Traviata takes place.
It's one of the most popular operas of all time. La Traviata tells the story of the crème-de-la-crème Parisian courtesan with a noble heart, the impetuous young man from the provinces who loves her, and how bourgeois values and cruel fate conspire against them.
Set in 1865, shortly after Verdi composed La Traviata, the production abounds with color and texture – extravagant gowns, outlandish coiffures, party scenes that costume designer Cait O'Connor describes as "Victorian going for Baroque." Scenic elements include oversized bulls' heads, skeletons, Spanish lace, iridescent wings, colored paper lanterns – plenty to engage and intrigue the eye as well as the ear. For tickets call (312) 827-5600 or go to www.lyricopera.org.