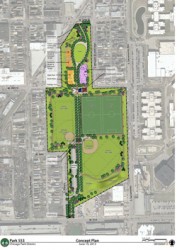 Mayor Rahm Emanuel and the Chicago Park District announced that the Chicago Park District Board of Commissioners has approved a contract with Friedler Construction Company to begin construction work at Park #553, on the former Celotex site in the Little Village neighborhood. The contractor, the lowest of five bids, was selected following a publicly advertised invitation for bid; construction is expected to begin this month.
"The big park in Little Village will be an impressive and welcome addition to our City's park system," said Michael Kelly, Superintendent and CEO of the Chicago Park District. "The completion of this park will provide much needed recreation opportunities for the children and families of this community."
The former 22-acre brownfield site will be converted into an open recreation facility containing at least two artificial turf soccer fields with field lighting, a natural grass baseball and softball field, a large playground with water spray feature, basketball courts, open lawn areas, a skate park and walking and jogging trails.
"While Celotex Park has taken many years, our community focused on transforming the site into green space for all ages," said Alderman George Cardenas, 12th Ward. "This persistence paid off and the residents of Little Village will benefit tremendously when Celotex Park opens." The $10.1 million contract estimates construction to begin before the end of the month for substantial completion in fall 2014. The park development includes environmental remediation and oversight.