By: Ashmar Mandou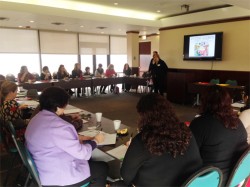 A group of health advocates representing Lurie Children's Hospital, Mount Sinai, Alivio Medical Center, Casa Central, and Chicago Hispanic Health Coalition, among others, organized a meeting at Mercy Hospital earlier this week to kick off the INTERCAMBIO Advisory Board (Identifying Needs Together through Engaged Research –Community/Academic Meetings to Brainstorm Ideas in Obesity). 
INTERCAMBIO is a research initiative designed to promote healthy behavior among Chicago-area Hispanics by establishing a foundation to address racial health disparities.  INTERCAMBIO aims to accomplish this goal through the development of an advisory board comprised of partnerships between academic institutions and community-based health organizations. 
The advisory board will take on a different approach called community-based participatory research (CBPR) to identify the areas of interest regarding obesity-related disparities in health and use the research to develop education training opportunities.  If you or someone you know would like to become involved with the INTERCAMBIO advisory board, email Sandra Gutierrez at Sandra.gutierrez@northwestern.edu.