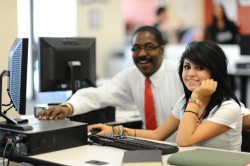 Ombudsman Chicago, a new option for Chicago Public Schools students ages 14-21 who are out of school or off track to graduate from high school, announced it has opened a new location at 2401 W. Congress Parkway on Chicago's West Side. Students can learn more or enroll now by visiting www.chicagodiploma.com or by calling (312) 806-9022.  Chicago West is the second Ombudsman learning center in Chicago; a center is also located at 7500 N. Harlem Ave. on the Northwest Side. A South Side location will be announced later.  Ombudsman Chicago offers:
Post-secondary counselors, a Career Development Center, internships and job-shadowing opportunities so students can learn about academic and career pathways based on their skills and interests;
The emotional and behavioral supports, including a licensed social worker and individual and group counseling, to develop the skills to establish positive relationships and the self-confidence to be successful;
Free tuition.
Ombudsman is accredited by the North Central Association of Colleges and Schools (NCA) and AdvanceEDTM and the curriculum is aligned to CPS and State of Illinois graduation requirements to ensure students earn an accredited diploma.