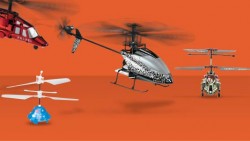 As shoppers start thinking about how to deck their halls, RadioShack invites consumers to "Tech the Halls" this holiday season. From delivering great prices on the hottest tech brands, to rolling out a new product protection plan, and even giving consumers a chance to name their own deals, RadioShack intends to celebrate the creative spirit that keeps the holiday season bright. RadioShack continues to find ways to give consumers what they want and starting this week, consumers can visit www.radioshack.com/holiday to stay updated on all of RadioShack's holiday offers and upcoming Black Friday deals.
Black Friday Deals: Black Friday deal seekers will find reasons to celebrate with great deals on top brands such as Kindle, Beats by Dr. Dre, SOL REPUBLIC and Samsung. RadioShack will give shoppers a chance to shop online Thanksgiving night to grab deals while most retail locations will open at 8 a.m. on Black Friday. Select Black Friday specials include:
Savings of up to

50% off Bluetooth speakers, including JBL, Beats Pill and RadioShack's exclusive AUVIO line

Select toys up to 50% off including the Micro Indoor Helicopter for $14.99 (Reg.29.99, save 50%)
SanDisk 32GB Flash Drive for $7.99 (Reg. $49.99, Save 80%)
"Name Your Deal" Promotion: RadioShack is giving shoppers the power to name their own deals with an interactive application at www.radioshack.com/holiday where consumers can select the product and pricing, vote on and share the hot deals. On Nov. 27, consumers can redeem a limited number of coupon codes for "Name Your Deal" products at amazing prices.
Tech the Halls Idea Centers: Building on its heritage as a DIY destination and expert resource for tech know-how, RadioShack has created holiday Idea Centers in its stores, featuring easy-to-follow instructions cards for how to create some holiday fun using products from the surrounding shelves.